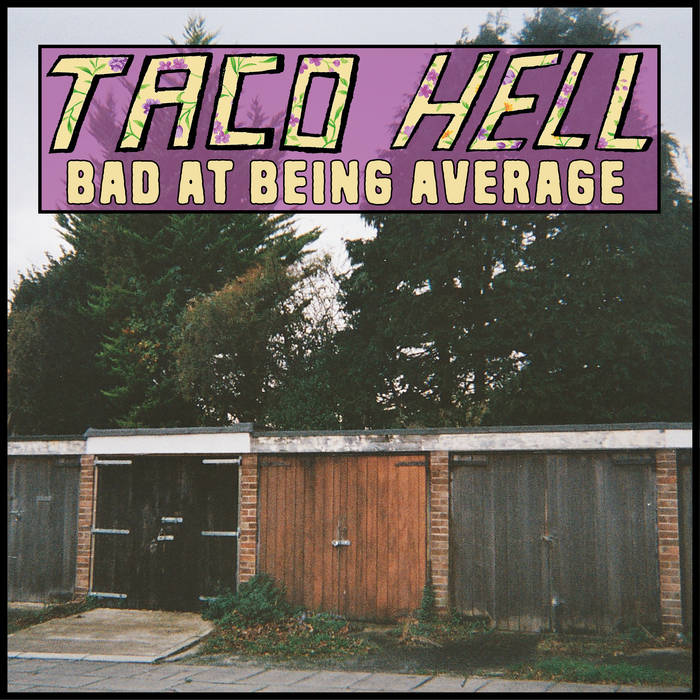 Opening with the 2 minute-long, dreamy, somewhat ethereal "Untitled", with the only lyrics being "I know it's wrong, but I've thought about it", Taco Hell suggest a more laid-back and experimental emo album. However, over the rest of the album, things are more akin to what was found on their 'Retainer' EP: anthemic, gritty, yet earworm-y 'sad' punk. That's not to say that Bad at Being Average is not experimental or dynamic though; far from it. Building on their early releases, Taco Hell really pushed the boundaries on this, their first and final LP. Yep, that's right, if you didn't know, Taco Hell have called it a day after three years as a band, with a couple of members leaving the country, but they bow out with a hell of an album.
So, back to the sound: 'sad-punk' does pretty accurately describe Taco Hell's sound, on the boundary between modern 'revival' emo and Fest-esque 'gruff' punk, recalling the likes of Jeff Rosenstock, Joyce Manor and Tiger's Jaw. I mean, the latter comparison is perhaps the most apt, with harmonious male-female dual vocals present throughout Bad at Being Average. But their songwriting also fairly neatly fits into the UK's indie-punk scene, alongside bands such as Caves, Doe and (the dearly departed) Bangers. Basically, Taco Hell combine a lot of shit I like and craft something that is totally their own sound. I was pretty into the 'Retainer' EP, particularly the catchy-as-fuck "Baby Teeth", but for me, Bad at Being Average is where they really found their own sound.
So, what do I like the most from the album? Well, "Same City" has to be up there as one of the album highlights, with its spaced-out verses, building up to a wonderfully catchy chorus. It is about considering re-connecting with someone you haven't seen in ages: "do you still live in the same city that I do?". I love its restraint and melodic poise, as well as its directness. For me, Taco Hell highlight that it's 90% about good songwriting; sonically, these are generally fairly simple and direct tunes, but they work and, what's more, they intrigue and invite further listens. For instance, the chorus in "Gang 2: Electric Boogaloo" is just great, with lead singer Joe's cries of "We are the…same", backed up by bassist/vocalist Eleanor's back-up vocals of "you know, we are the same". It is simple, but it really works. The other album standout is "Twin Peaks References & Depression". It has a soft/loud dynamic thing going on, culminating in a chorus that manages to make "David Lynch!" stick in your head. It reminds me a fair bit of early Bangers and Apologies, I Have None: it's gruff, deeply personal and from the heart. As are all the lyrics on Bad at Being Average, to be fair.
The lyrics on the record tend to be self-analytical and somewhat self-deprecating, but not in an overbearing way. I like to think that a lot of the album fairly accurately touches up on growing as a 20-something in the North of England, without a penny to rub together, but having a great time nonetheless: "This is arguably poverty, but I don't hate it; No, I don't hate it". That line reminds me of a Copyrights lyric from their split with the Methadones ("Flooded Basements, Abandoned Beaches") that I have always loved: "Were parents right when they said, with money comes freedom?/ As the bills pile up, I'm inclined to believe them/ But the beaches and basements are flooded in my mind/ Never been more care free than when I didn't have a dime". Being broke obviously fucking sucks, and let's not romanticise it, but there is a level of freedom that comes with that way of living.
So, yeah, Taco Hell's last ever released song is called "Goodbye" and they have just completed their last-ever tour as a band. It is a huge shame considering the potential they demonstrated during their time as a band, but let's not focus on that and instead value what we've got: an inventive, catchy and dynamic album from one of the best bands I've heard from the UK punk scene in the last few years. If somebody from outside the UK is reading this and wants a good example of what is going on here, Bad at Being Average is not a bad place to start at all.
DB
Check the album out here: https://tacohellband.bandcamp.com/