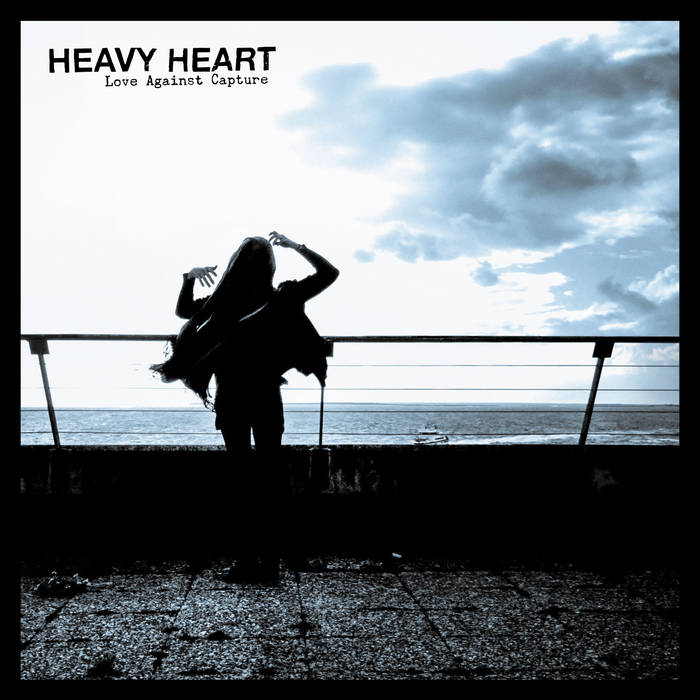 I am a big fan of last year's Distance, Heavy Heart's debut LP, but the Nantes punks' follow-up is even better. It's a bit of a grower, compared to the immediacy and sing-a-long nature of Distance and I do miss some of the drive and speed of the debut, but Love Against Capture is one of the best underground punk records of the last few years. There is distinct growth by Heavy Heart since the last record (only a year ago, crazily), with clear sonic and songwriting progression on display. Things feel more mature, considered and fully formed now. It is, in short, a proper fucking album.
Musically, Heavy Heart retain many of the things that made Distance so damn good: mid-tempo punk melodies, vocals from the gut and gang-vocal sing-a-long choruses. At the same time, the tempo has slowed a little and the songwriting more generally feels better constructed and more mature. There remains evidence of Iron Chic, Timeshares and the like, but Heavy Heart's musical evolution and more considered songwriting structures lends itself, at times, to an indie-punk-emo hybrid. A little like more recent Spraynard or a shoutier, punkier The Hotelier. At times, they don't sound unlike a poppier version of Hot Water Music, albeit less gruff. The vocals lend themselves well to the mid-tempo melodic punk and sound a little 'emo' without being whiny.
Lyrics-wise, I think Heavy Heart have improved ten-fold on Love Against Capture- and that's considering that I was pretty into the poetic style on the previous record. Heavy Heart write Banner Pilot-esque heart-on-sleeve stuff about finding hope in dark and hopeless places. The slow-burning opener "New Light" sets the tone for what is to come: "we are breaking, we are breaking walls that separate us/Our love will grow until we all come to dust". The record paints a picture of a world divided at the seams, destined to fall apart and becoming ever more atomised, with the protagonists' solution being to hold those dear to him closer.
Love Against Capture is certainly not a typical, wallowing emo record, as "No Bounds", probably my favourite track on the record, sounding like a cross between Fest-punk and Superchunk, makes explicit: "I'm done with glorifying loneliness". There is a 'posi' vibe on the record: a striving for life, love and for breaking out of chains, whether they be personal or systemic. These lines from "Fragments" nicely sum this up: "Their world has always crushed you/ You tend to feel lost in their "whole"/ Weapons are all around you/Get up my friend you spent too much time on the ground". It reminds me somewhat of the hand offered to the downtrodden by Rivethead with that classic line on "48 Doublestack": "I know it's not much but try to not let the world make you the sucker all the time".
The whole record is basically great, although, except "Geography" ("No foundation, no model, no hierarchy/ Like the grass, not the tree/It begins to grow only from the middle /This is where things pick up speed"), my preference is more heavily weighted towards the first half of Love Against Capture. From "New Light" straight through to "Out of Place", it is pretty much pure gold.  "Magic Life" and "Fragments" very much capture the best of Heavy Heart, while "Winter Years" is super interesting, sounding a little like Cloud Nothings, with the steady, drawling vocals and the quiet-loud dynamics. The production on the record finds the perfect balance between clarity and grit. All in all, a fantastic LP, and I must say Heavy Heart are one of the best punk bands to emerge in Europe in the last few years.
Check it out here: https://heavyheartnantes.bandcamp.com/album/love-against-capture
DB