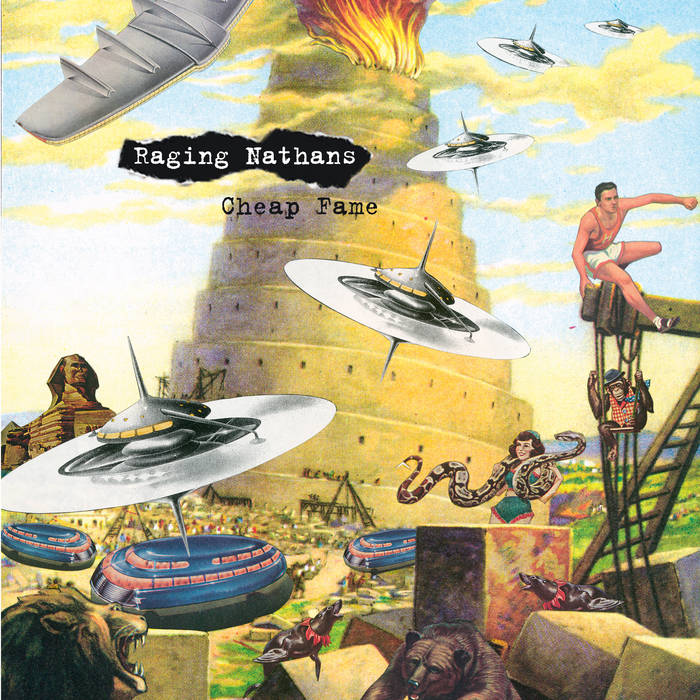 I have been aware of Midwestern pop-punkers The Raging Nathans for a while, but never properly checked them out. Sounds like I've been missing out! Their debut LP Cheap Fame is absolute gold. It combines Lookout! style blink-and-you'll-miss-'em melodies with a punchier and meatier melodic punk sound. Raging Nathans meet the sweet point between say The Queers and Dillinger Four. There is a snarl and bitterness here that has become prevalent in modern melodic punk. Indeed, the speed, intensity and relentless bitternes on Cheap Fame recalls lead singer Josh Goldman's other band The Dopamines. The gang vocal choruses, everyman songwriting and crunchy melodies also bring to mind The Copyrights or Rational Anthem, especially on tracks such as "B1505" or "Circling the Drain".
At the same time, fans of '90s-era and The Queers or early Green Day lovers are going to be more than satisfied with the huge hooks and ear-worm-y choruses on offer on Cheap Fame (the album artwork is indeed drawn by Insomniac artist Winston Smith). The more traditional pop-punk fans can pogo along to tracks like the early 'Weasel-esque "Teenage Amnesia" or The Murderburgers-y (How to Ruin Your Life-era, obvs) "Brain is Floating". "CTRL+ALTRIGHT+DEL" recalls the hooks and pace of early Down by Law. My favourite track is probably "Sucker Punch" though, which is a heart-of-sleeve, chug-a-thon that declares, "life is one long panic attack and series of sucker punches". It would fit right into place on Dream Homes. As the lyrics on "Sucker Punch" would suggest, the mood on Cheap Fame is somewhat downcast, to contrast with the breezy melodies (as most of the best pop-punk does, amirght?), getting to grips with anxiety, questioning if you are a 'good man', feeling like 'circling the drain' and 'lonesome in the ocean'. One of the obvious highlight lyrics is on closer "Holding it in" which kind of brings the whole thing together: "the light at the end of the tunnel is just an oncoming train". I doubt I'll find a better line in 2018.
Fans of sadsack pop-punk, come here and get your fix.
Check it out here: https://theragingnathans.bandcamp.com/album/cheap-fame
DB