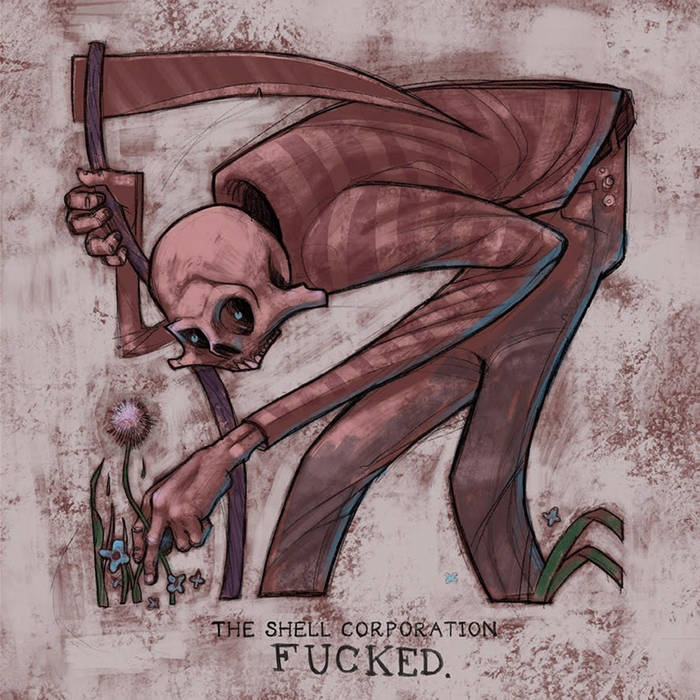 I've heard the Shell Corporation and seen them live before. Hell, they played my birthday show a few years back. And I've always thought they were good, but goddamn! This is one hell of a record! It is unrelenting in its power and energy, expanding beyond the band's well-known and well-tread territory of melodic punk. The opening track, "Kumbaya," is harder, darker, and edgier than anything I've ever heard from The Shell Corporation before, and is a scathing commentary on the current state of American society and politics, the massive divide tearing the country apart, and those who are calling for those on the left to just be quiet and accept the "new normal." This indeed is not the time for Kumbaya, as the song's last line cries out. This whole album is an angry clarion call to us all. Songs reference climate change, the economic divide between those who own everything and the rest of us, the seeming hopelessness of the situation, and the way we purposely blind ourselves to the evils in the world that we're contributing to. While a good portion of the album does reflect the style of music-making The Shell Corporation has perfected, with multi-part harmonies over tough melodic punk, they go outside these boundaries on some tracks. I love "Fighting For," a song with a thinner arrangement, just vocalist Jan Drees' vocals without the harmonies, and more of a hard indie rock feel than punk. The song is about how people go about their lives without ever questioning what they're doing or why, or who really reaps the benefits of their work. "Poor Devils" follows right after, and owes its debt to 70s hard rock. It's got that angry yet psychedelic feel to it, like some of the great protest songs from that era.
Of the more traditional Shell Corporation tracks, "Not Funny" stands out for its lyrical content, warning people to wake the fuck up and stop "taking selfies" and "posting memes as we drown and our lips turn blue." People are likened to Charlie Brown, forever trying to kick the football and ending up flat on our backs, and eating the same old shit every day and coming back for me. "Waters" stands out for its amazing melodic lines, sounding bright and angry at the same time. "They Live" speaks to the revival of open hatred and bigotry in the country in the era of Trump, and how the traditional liberal sentiment of "when they go low we go high" doesn't cut it, because "a razor wit doesn't win knife fights."
The closing track, "One Last Thing," is amazing, but feels out of place here. It shares more in common with the grunge greats than anything from the punk scene, and it's an angry anti-love song to an ex who fucked things up, rather than a political commentary. Yet it's still a great track.
Four years after their last release, The Shell Corporation is back, stronger than ever, and pissed off as hell. This album will surely find a place on many year-end "best of" lists.
PS
Check it out here: https://theshellcorporation.bandcamp.com/