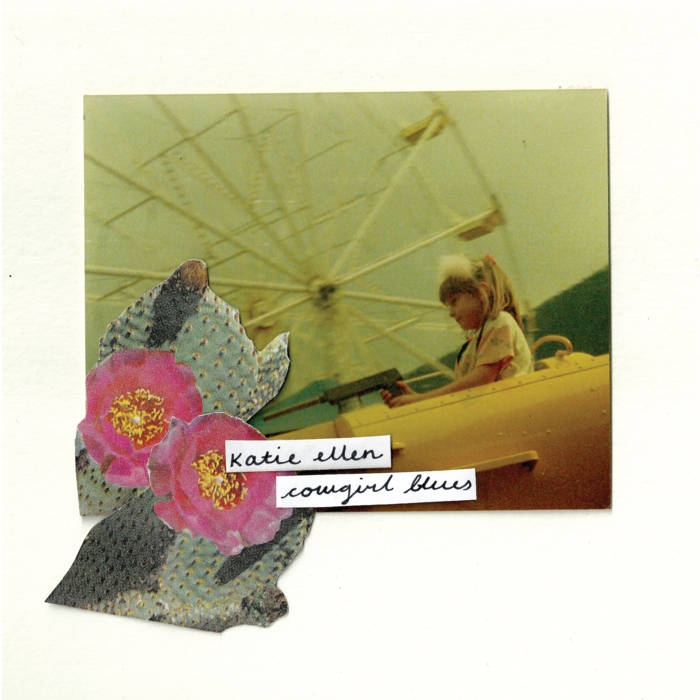 In a similar way to The Ergs!, Chumped were an awesome, but way-too-short-lived pop-punk hit-machine. The pained vocals of Anika Pyle made for emotive and passionate pop-punk sing-a-longs that, for me, only get better with time. It was a couple of years after its release that I truly appreciated the magnificence of Teenage Retirement, Chumped's only full-length. Now along comes Katie Ellen, the pseudonym of Anika (and name of her Grandmother), re-invented and providing a melodramatic, indie-rock work of art. I'm not exaggerating when I say that this is one of the best things I've heard in years. Cowgirl Blues is fucking phenomenal.
So, what does this sound like? Cowgirl Blues is stripped back pop-punk, it's crunchy indie rock, it's confessional folk. It's all of these things. It's somewhat reminiscent of Waxahatchee's hooks and heart. The record retains the beating heart and catchy hooks of Chumped and transports them to new terrain. Cowgirl Blues is unashamedly raw and heart-on-sleeve; in fact, as the closing track demonstrates, this record is rather more aptly bleeding heart-on-sleeve. Things get pretty Taking Back Sunday on "Bleeding Heart": "If there's no other way to show you my love/ Then I'll slit my throat/ Donate my most precious organ to you, still beating and bleeding".
Cowgirl Blues sure is a gut-punch of a record: just listen to "TV Dreams", which opens with the almost whispered confession of "I am miserable with you/I am miserable without you" (calling to mind Lemuria's lyrics on "Length Away") and ends with Anika's pained cries of "I guess I called to say that you can call me". Opener "Drawing Room is a slow-builder and talks about withdrawing from everything and everyone, except 'you'. "Proposal", meanwhile, is the rawest and most stripped back on the record, calling to mind early Waxahatchee's visceral honesty: "I'm sick of fucking in our bed/ I'm sick of fucking with your head".
But is this an emo record? To some extent. I mean, it's melodramatic, inward-looking and self-deprecating at times, ticking a lot of the 'emo' boxes. But Cowgirl Blues is so much more than a simplistic 'emo' or 'break-up' label would suggest. It's not a maudlin, self-pitying record really; it's more fiery, passionate and bitter. I also feel the record is about finding power and strength in shitty situations and reaching conclusions that you may not want to reach. It's also a record embedded in feminist politics and trying to navigate relationships and societal expectations as a young women growing up today. These reflections probably result in some of the best lyrics on the album, as on "Sad Girls Club": "I hope you find a stable girl/who treats you like you deserve it/take her home at Christmas time, impress your middle class parents". This song tackles head on the societal expectations of what women should and shouldn't be like and how mental health is implicated in all this: "Sad girls don't make good wives".
In similar ways to other contemporary indie-punk bands like Waxahatchee, Cayetana or Worriers, Katie Ellen expertly weaves the deeply personal with reflections on the social or political. I don't say this very often, but Cowgirl Blues is a truly great record. It really made go 'wow', even though I already had pretty high expectations. There is not one thing I would change about the record; every song feels vital and necessary. If you are going to listen to any record this year, make it this one.
Listen here: https://katiebandellen.bandcamp.com/
DB