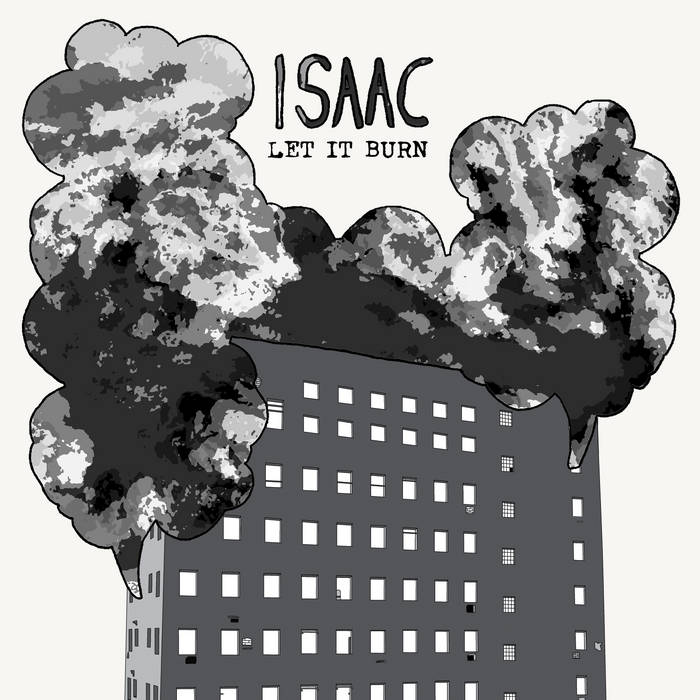 Let's be clear from the start. Nottingham's Isaac aren't breaking any new ground with "Let It Burn." Their sound isn't something unique that makes them stand out from the crowd. And, while there's some variation in some of the songs, much of the album has a, shall we say, very consistent sound. I happen to like this sort of sound, personally, and though there are some problems with "Let It Burn," overall it's a decent listen.
The album starts out very promisingly, with "Hunger Pains," perhaps the strongest track of the LP. A deeply fuzzy bass line introduces the track, then the guitar joins in with a simple line, and the drums give a bouncy beat. The track picks up with a strong riff, and then the vocals come in, the whole song having a texture very familiar to those who listen to bands with the post-emo sort of melodic indie-rock sound. "This Bitter Song" introduces some nice vocal harmonies, but from there things start to lose steam. "A Polish Cafe at Christmas" and "Lil Lord" have melodic lines that sound so similar that one would be excused for thinking the same song appeared twice on the same album. Most subsequent tracks fail to inspire, everything having nearly identical dynamic levels, tempos, mixes, and so on. A few of the songs in the latter half of the LP are a notch above the rest. "Wet Legs" has a stronger more dynamic feel to it than most tracks, and "Stiff Upper Lip" and "Fade Out" both have a nice bounce to the melody. But even there, the feeling of these tracks is just too similar.
At fourteen songs in thirty-five minutes, there's a lot of sameness to wade through. This is something best taken in small doses in shuffle mode.
Listen here: https://circlehouserecords.bandcamp.com/album/let-it-burn
PS