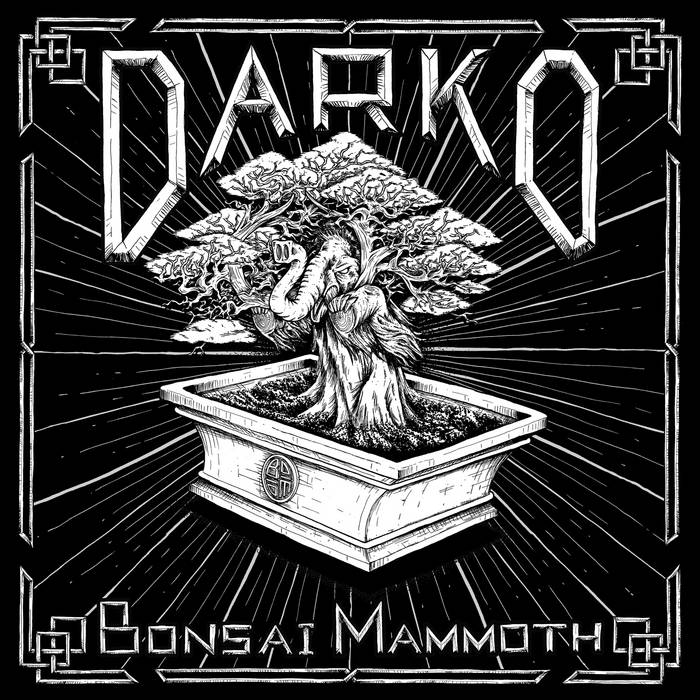 After several years of kicking around, Darko has finally released a full-length LP. They get called skate-punk a lot, but too many bands share that label, to the extent that it's become meaningless. Suffice it to say, they blend speedy hardcore, crunchy melodic hardcore, a pop sensibility, and technical virtuosity into one neat package. It's like taking Propagandhi and Caskitt, mixing in a dose of Pears and even a pinch of Success. There's the hard edge and rapid fire pace, but with tons of melody and emotion.
After a slow start, with mellow tones in the opening bit of the first track, "Life Forms," things explode with fury. But it's really with the second track that Bonsai Mammoth hits its stride. "Just A Short Line" is a tour de force, with strong emotive vocals, mind-boggling guitar work, a breakneck pace, and melody dripping from every second of the track. I think it's the guitar work is one of the things that makes me think of Caskitt – that band's Steffen Long is a technical wizard, and we get similar magic on this LP. Plus the opening of "I Knew I Should Have Taken That Left Turn at Albuquerque" sounds just like something Caskitt would do. The powerful gritty vocals remind me of Success' Rev Peters, communicating fluently through the gravel, the melody clear and shining, as is the case in "Set In Our Ways."
"Dead Hordes," the penultimate track, is so Pears-like I had to check to make sure I was still listening to Darko. Super fast, super melodic and super poppy, yet still crunchy, this track may have been my favorite of the album – an album that start's strong and doesn't let up through its entire twenty-seven minutes.
Listen here: https://darko.bandcamp.com/album/bonsai-mammoth
PS