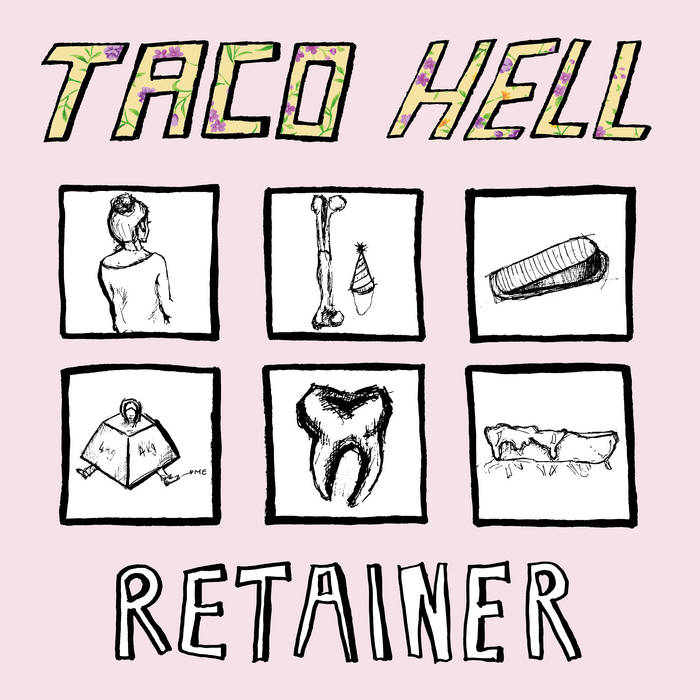 There must be something special about the north of England, because some great bands come from that region. Taco Hell, hailing from Nottingham, play gorgeous indie pop with a punk edge and dark lyrics full of self-deprecation and depressing sentiments. This is especially true on the tracks sung by co-front Joe Booker. On the short blast of an opener, he screams, "I don't really like people, but I have to speak to them." And on "Hold the Door," he shouts out "I know that I'm selfish / And I hate it. / I know that I'm worthless / There's no need to say it." The other co-lead's vocals are a nice counterpoint, Eleanor Parkinson's smooth and dreamy vocals balancing out Booker's angst.
The songs also balance varying elements. Jangle and dreaminess intertwine on these six songs, immersing the listener in the ethereal while at the same time jostling with danceable sounds. "Hold The Door" and "Wait For Me" are a good pair of track that exemplify this. The former leans more heavily to the poppy jangle, but has its moments of grand beauty, with what sounds like trumpets upping the epicness of the sound. The latter leans more toward the dream pop, flowing with an undercurrent of guitar jangle.
The closer, "Cheesy Chips," seals the deal, starting out as a frenetic pop punk inspired number, but about a minute into the track, it suddenly changes, the tempo slowing, the mood becoming more somber, reflecting on the impermanence of, well, everything. "In the street, we lay together / We're mad now, we hate each other / Chips and cheese, we eat together / And I realize now, it's not forever." Nothing lasts forever, but this EP is sure to remain for a long time in the minds of those who listen to it.
Listen here: https://tacohellband.bandcamp.com/