Kimberly Steaks are an exciting, high-energy, catchy-as-hell punk rock band from Scotland, who have a clear '90s Lookout influence. After a full-length and an incredible 7" (Chemical Imbalance), they recently released as split 7" with Dead Bars for the All in Vinyl record series. I chatted with Greig, lead singer of the 'Steaks…
Hello, Kimberly Steaks! You have just released a split 7" with Seattle band Dead Bars, as part of the All in Vinyl record series. How did that come about?
Hello, Keep Track of the Time! All in Vinyl have been one of our favourite UK labels for years, and were nice enough to put out our album even though not many people had heard of us. Their split 7" series are always great, especially in introducing people to bands that they might not check out otherwise, so when they asked us to be a part of the third series we instantly agreed.
 It's a cool idea to pair bands up from different sides of the Atlantic for the series. Did All in Vinyl do the pairing themselves, or did you have any control over who the other band would be on your split 7"?
All in Vinyl did the pairing. At the time we hadn't heard of Dead Bars, but when Dave (AIV) told us they had members of Big Eyes we were sold! Their side of the record is great. Both bands are quite different sounding but I think it works.
So, what are the plans in the near future for The Kimberly Steaks? Any further 7"s or possibly an album in the pipeline?
We're writing a new album at the moment. Everything takes a while for us because we're all busy with work and uni, plus Ross is a dad now so we can't really practice a whole lot. We're hoping to demo most, if not all of the new songs at the end of the year and record it sometime in 2017. It's going to be a bit different from the last one, louder with more of a live sound to it. We've played a few of the songs live and people seem to really like them which is encouraging!
How has touring been this year for you guys?
We've not done a whole lot this year, but what we've done has been great. Manchester Punk Festival back in April was a highlight, we played a tiny sweaty club after the main stage finished and it was full to capacity, those kinds of gigs are always the best. We did a two-week UK tour last month which was also great fun. We did a lot of touristy stuff during the day like exploring caves and castles, and went down a big pit in Wales which was amazing.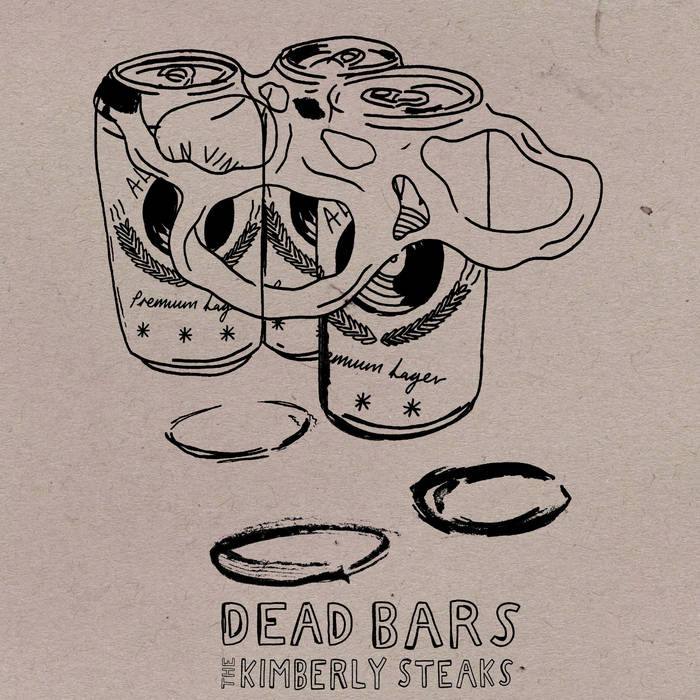 So, taking a step back, how and when did the band form?
The band actually started around 2005, but sounded very different than it does today. It's probably for the best that we didn't record much back then, because we sounded like a really bad Screeching Weasel cover band. We called it quits around 2007 after self-releasing our first EP, 'Big in Dundee' (which you can still find online if you feel so inclined, just don't expect too much). When we reformed in 2012, it was essentially a different band but regrettably, we decided to keep the same stupid name.
 I'm interested, where does the band's name come from?
We get asked that a lot. It's a terrible name and the story behind it is equally as bad. It was on a camping trip in the north of Scotland and someone claimed to have a girlfriend but wouldn't tell anyone her name. The closest thing to hand was a packet of steak & onion crisps, so our drummer Graeme's younger brother concluded that her name was Kimberly Steak. Makes perfect sense, I'm sure you'll agree. At the very least, we'll never need to worry about anyone with the same band name trying to sue us.
What are your musical influences as a band? I hear a lot of 90s Lookout in the Kimberly Steaks sound.
We get the Lookout comparison a lot, especially in gig listings that describe us as some variation of "The Scottish Green Day". We all love old Green Day so we just embrace it. As a band, the music is probably most influenced by bands like The Mr T Experience, Smoking Popes, Sicko and The Queers. We all listen to a lot of different music but simple fast pop-punk is by far the most fun to play.
How do you think that the band's sound has changed, from the 'To Live and Die…' LP to this split 7" you have recently put out?
Hopefully it hasn't changed too much. We always focus on having a good vocal melody, some nice harmonies and keeping it short and to the point. The lyrics on the album all centred around life in a small town, but there's only so much you can write about watching TV and drinking too much. Writing lyrics is by far the hardest part of our songwriting process, and having a theme makes it a bit easier, but there isn't much space on one side of a 7". The newer stuff is more about dealing with being an adult (or trying and failing to do so). We'll see how that develops for the next album.
A bit more broadly, can you describe the state of the Scottish punk scene at the moment? From what I can gather, it seems like there's something great going on there right now.
The punk scene in Scotland is really strong right now, but it definitely didn't happen overnight. A lot of people like Boab (of No One Knows Records), Deeker (Make That A Take Records), Fraser Murderburger and far too many more to name, have put in a lot of work in promoting gigs, putting out records and getting great bands to play in Scotland. This year marks the 10th Book Yer Ane Fest in Dundee, which has grown every year since its inception and attracts bands and punters from all over the world. It definitely helps that there are so many great bands in Scotland right now too. Long may it continue!!
Check out the new Kimberly Steaks 7″ here: https://thekimberlysteaks.bandcamp.com/album/all-in-vinyl-single-series
DB