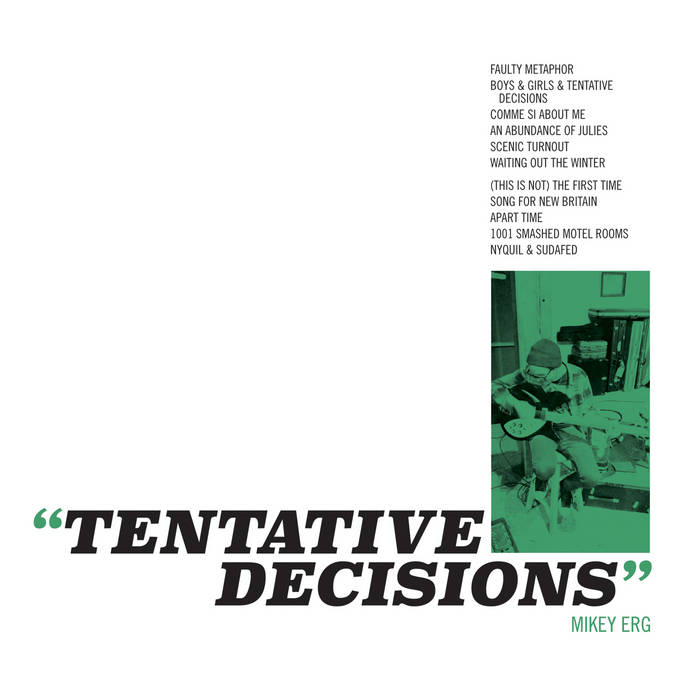 So, The Ergs! were the ultimate 'broke up too early' band; the finest that '00s pop-punk had to offer burnt out, rather than faded away. The band recently re-united for a few shows, including Fest and an awesome set on the Chris Gethard show (I think few other pop-punk bands can provide such intensity and passion in their live music). Alongside that, Mikey Erg! (the hardest working man in punk rock) has decided to release his first solo record. After a string of 7"s and splits since The Ergs! called it a day, we finally get the full-length. We have seen him do his drumming thing on a number of other records (including stuff by Houseboat, The Measure (SA), etc) and he is great, but it is when he is in charge of the song-writing where he really shines. It is his gifted form of songwriting that elevated The Ergs! among the rest in the '00s pop-punk scene and, my God, it's good to have him back.
It is a familiar songwriting style that Mikey brings to the table for Tentative Decisions; recalling the love-sick, lonesome pinings of Dorkrockcockrod. At the same time, Mikey's tales are a bit more knowing this time. He has become that bit more cynical that comes with age. He explicitly states on the immediate, opening lines of the album: "I've seen love in a million places". Essentially, the girls keep walking in and out and Mikey's loneliness persists; but one is bound to have a different perspective after girl #8 than girl #2 and it shows. On probably the Ergs-iest song on the album "Boys & Girls & Tentative Decisions", Mikey sneers "The words sound funny when she speaks and I can't quite decipher what they mean/ She is gonna walk out; it's what they always do, what they always do". The song ends with an awesome guitar solo and fades out with Mikey contemplating, "it's what they always do". Then, there's the self-referential element of "Comme Si About Me": "This is the part where I lose you in an instant". He spits out an epilogue to all of his love-lorn past ditties: "I wish you loved me and blah blah blah/ and I wasn't lonely and blah blah blah".
So, that's the classic, DRCR pop-punk that Mikey ploughs through with ease on Tentative Decisions, but there are other elements on this LP that are a bit more Upstairs Downstairs. For instance, one of my favourites on the record is "Waiting out the Winter", a mournful, acoustic, country-tinged affair where Mikey laments going through a sad part in his life and "wasting away the summer". It is sad stuff, but song-writing wise, I think it is the best acoustic thing Mikey has written. There is some power-pop in evidence on "An Abundance of Julies" and "A Song For A New Britain", which complements the pop-punk nicely. Tentative Decisions ends on the least pop-punk song, however: the lo-fi, feedback-giving slow-paced "Nyquil and Sudafed" (titled like a Nirvana b-side). It sure is a bummer of a song, but it leaves you with a similar feeling as does "Upstairs/Downstairs", albeit having listened to 10 minutes less music. The overall feeling of this album is kind of summed up in the previous song "1001 Smashed Hotel Rooms": "I've got the emptiest bed in the loneliest room tonight". He is still looking for that anthem for a 'new Amanda'. Mikey can write these kind of tunes without descending into self-pity, however, and there is a self-aware and playful element to these songs. Ultimately, Tentative Decisions is the sound of pop-punk's premier song-writer coming back to form.
Listen here: https://dongiovannirecords.bandcamp.com/album/tentative-decisions
DB